The answer to this rather odd question lies in the grounds of the Lednice castle in the southern Czech region of Moravia. Just a few kilometres away from the Austro-Czech border, the UNESCO-protected site is a great daytrip destination from Vienna. It is also a popular stop-off point for cyclists on the Iron Curtain Cycle Trail.
—–
It's going to be another hot summer day in Austria and we're dying to get out of the city into the countryside. Preferably somewhere shady and away from roads and traffic. For several years, I've been hankering to return to Lednice castle in the Czech Republic. I first stopped off here in 2017 while out riding my bike and was impressed by the romantic Gothic architecture, elegant palm house and sprawling castle gardens.
A brief history of Lednice castle
Lednice has been a notable location since the 13th century when the records show that there was a fortress with a courtyard on the site. However, the castle's current appearance dates back to the mid-19th century. Alois II. of Liechtenstein, a member of the powerful Liechtenstein family, decided that Vienna was not a suitable venue for entertaining guests in the warmer months. He wanted a proper summer palace and had Lednice castle (called Eisgrub in German) altered to meet his needs.
The gardens have also been through several transformations. From the baroque arrangement of the 17th century, they took on a classical style in the 18th century. Then, they were reworked again to fit the ultra-fashionable "English garden" trend.
A faux minaret garden folly? Go on, then
During the classical period, several follies were added to the estate, including a faux minaret. This was erected between 1797 and 1804 according to the designs of one Josef Hardtmuth. Due to the marshy ground at its location, the minaret had to be built on a foundation of iron-shod wooden pillars, several wooden grates and a layer of stone slabs. It cost almost a million guilders.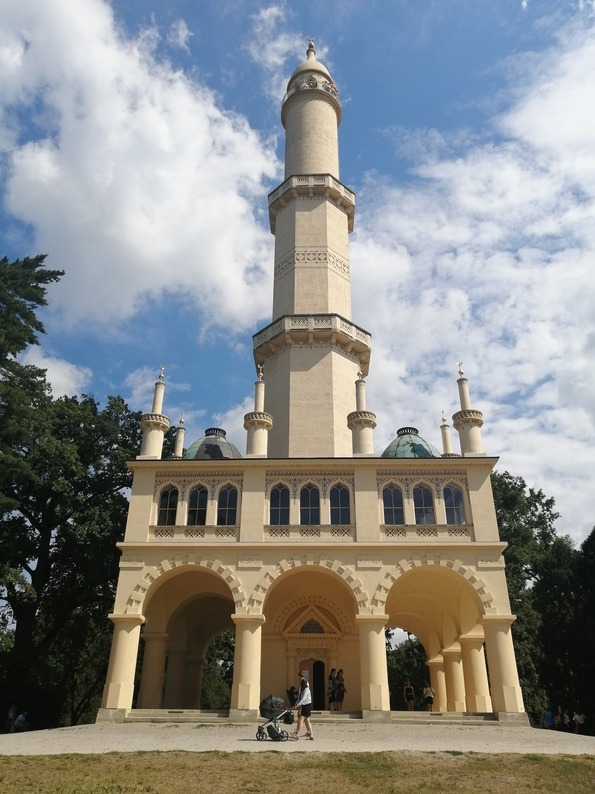 You can ponder whether this exorbitant expenditure was worth it while you climb the 302 steps up the winding staircase inside. From on high, you can take in the panoramic view over Southern Moravia from one of the three balconies. The third and highest of these balconies is a particularly awe-inspiring experience. It is narrower than the others and has only a cast-iron railing for extra vertigo. Add a stiff wind and too many people crowding around trying to take a photo and you have the ideal cheap thrill for your weekend.
The minaret is an impressive feature to be sure. But my interest was more piqued by the name of the architect, Josef Hardtmuth. Hadn't I heard that name before? Having got down the minaret in one piece and found mobile reception, I decided to do some quick sleuthing.

A man of many talents
His name may be one which fewer and fewer people know. But Josef Hardtmuth was one of the more interesting movers and shakers living and working in 18th and 19th century Austria.
Hardtmuth was born in the Lower Austrian town of Asparn an der Zaya in 1758, the son of a Bavarian carpenter. He trained as a bricklayer and stonemason before heading off to Vienna where he worked as a builder under the tutelage of his uncle. No doubt helped by well-placed contacts in the industry (but also his self-taught drawing skills), he was soon contributing to the design and construction of some of Vienna's grandest buildings, such as the Palais Liechtenstein in the Herrengasse. He went on to become the favoured architect of the Liechtenstein family. This is how he came to design and build a minaret with no practical use whatsoever in a Moravian park.
Brick-making machines, earthenware…
Any other person might have been satisfied with that as a life's work. But Hardtmuth was not content to simply call a single métier his own. He was also a notable inventor. Many people in Vienna will associate his name with the glazed earthenware ("Wiener Steingut") which he developed and patented and which he established a factory in Vienna's 9th district to produce. The material was as fine as porcelain, but more hard-wearing. And cheaper, which meant it was available to a larger portion of the population. Beer krugs, crockery and pipes were just some of the products that the Hardtmuth enterprise made and sold.
Another Hardtmuth invention was a pressing machine to produce blocks ("Quader") of sand and lime which were hardwearing and would withstand weathering without the need for firing. The wall around the castle at Valtice (another Liechtenstein family property a few km away from Lednice castle) was made entirely from these bricks.
…and the pencil?
As an architect, Hardtmuth needed to spend a large amount of time drawing and sketching. At the time, pencils were mostly imported from England and were quite expensive. Hardtmuth, on the search for better solutions, found a way of mixing kaolin with graphite to form a wet mass. This was then squeezed through a form to make pencil leads of equal size and shape. By firing these leads for different lengths of time, he was able to make different grades of pencil lead. They were a hit on the market and comprehensively trounced all the competition.
When the Napoleonic blockade made the import of graphite from England prohibitively expensive, Hardtmuth turned to graphite from Bohemia and kaolin from the Budweis region — both of which could be easily sourced. The wood for the pencil outer was also obtained locally, making his business completely independent of supply restrictions or geopolitical caprice. The business went from strength to strength. Hardtmuth's pencils, fabricated in Vienna, were exported to Germany, Holland, Italy and Russia. They were also sold in England: the Viennese pencils were of the same quality as the domestically-made ones but could be bought for a fraction of the price.
Weathering the turbulence of the 20th century
Josef Hardtmuth died in 1816. The company he founded to produce the famous Hardtmuth pencils, Koh-i-Noor Hardtmuth, was taken over by his sons, Carl and Ludwig. In 1848, the company was relocated to Budweis (now České Budějovice in CZ) for economic reasons. Here, it continued to grow and expand its offer to include ever more innovative products. By 1910, it was one of the world's largest pencil producers, with over 200,000 units rolling off the production line every year.
The turbulent years following the First World War meant more difficult business conditions for the company. The Habsburg monarchy had disintegrated and the company found itself located in a new country, Czechoslovakia. After the Second World War, the Czechoslovakian government nationalised the company, which was only returned to private hands again in 1992. Today, it continues to make and distribute a wide range of art and writing equipment to more than 90 countries around the world. On a recent holiday to the Czech Republic, I bought a beautiful notebook in its shop in Pardubice — completely unaware of the connection to Vienna.
Back in the city where he made his fortune, Josef Hardtmuth is commemorated with a street bearing his name in the 10th district. He was without doubt one of Austria's most interesting and versatile entrepreneurs — able to teach himself new skills, identify exciting gaps in the market, experiment and present the world with new and innovative items. From a decorative garden minaret to a plain old pencil.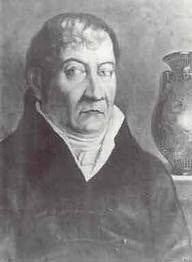 —–
Related articles:
Kaunas, Lithuania – love at second sight