Since meeting my wonderful partner back in 2008, we have travelled the globe together. What can I say? We are two free spirits with insatiable curiosity about the world who get very bored and grouchy if we spend too much time at home being domestic. It's just how we roll. By now I've seen so much – but a few highlights really stand out. So, without further ado – here are my top 5 travel destinations:
5. Western Canada
My top 5 travel destinations list starts in the western Canadian wilderness. We did a tour of Western Canada (British Columbia and Alberta) back in September 2011. Blessed with unusually warm and dry weather, we rented a Jeep and sped out into the wilderness for three weeks. Our tour took us to Whistler, 100 Mile House, Clearwater National Park, Jasper, Canmore & Banff, Revelstoke, Hope, Vancouver, and Vancouver Island.
We were blown away by the pristine wilderness – not to mention the sheer scale of the place. Monumental mountain ranges and such empty spaces that we could drive for 3 hours without seeing a single soul! Even doing a u-turn on the road involved driving 40km to find a designated layby. As Europeans, we had to recalibrate our approach to distance to the relaxed Canadian "5-hours-in-the-car-is-really-a-short-trip" mentality. As I remember, we clocked up over 3,000 kilometres in the 2.5 weeks we had that car.
When we think of Canada, we remember that intoxicating feeling of untrammelled freedom that comes with being on the open road.
[The above image was taken close to Beauty Creek on the Icefields Parkway, Alberta (Katharine Eyre © 2011)]
4. Corsica
France is a box of jewels generally, but it's Corsica that truly stole my heart away. Its nickname in French is Ile de Beauté (Isle of Beauty) and it lives up to this moniker in every way. Corsica's rough-hewn landscape oscillates between picturesque villages perched high on rocky mountainsides, forests of chestnut trees, desert and clear azure-blue sea. Whether it's a beach holiday you are hankering after or a challenging hiking trip – Corsica's diversity has you covered. The fabled GR20 hiking path which cuts across the centre of the island is of world renown and pulls in thousands of walkers every year.
The highlights of any trip to Corsica are the cliffs at Bonifacio and the area around Propriano and Campu Muru. Rocks weathered into almost alien forms and hidden beach coves make for great walking. Just watch out for the wild pigs…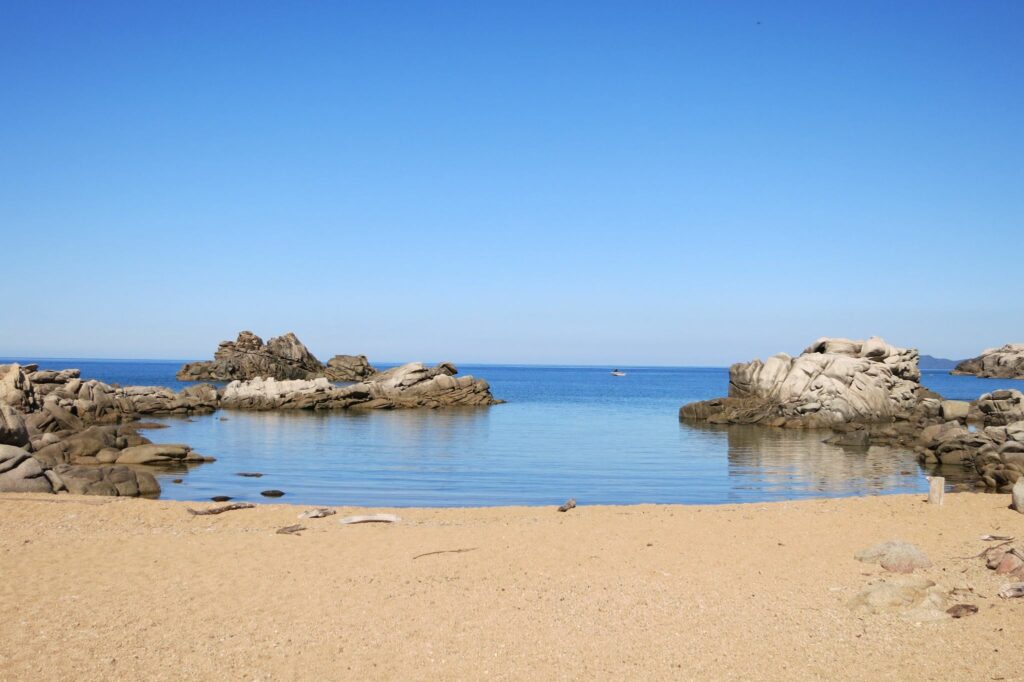 3. Czech Republic
Considering that I have been living just one hour away from the Czech border for 18 years, it is quite surprising that my love affair with this dinky European nation only began in 2016 when I visited a friend in Brno. For such a small place, it has all sorts to offer. From the rolling hills and vineyards of Moravia in the south to the volcanic, spa-rich west and the dreaming spires of Prague – the Czech Republic is certainly dressed to impress.
It's also a great place to go if you love European history. The upheavals of 20th century history are particularly tangible here. Since the formation of Czechoslovakia in 1918, the country has seen wave after wave of turbulence. Historical riches are just waiting to be discovered if you scratch the surface of this modern European nation now at the heart of the EU.
And – in case you didn't know already – the Czechs are world leaders when it comes to beer which mostly costs less than Coca-Cola. Whether you go for a Hladinka, a Šnyt or a Mléko pour, you will never regret having entered the pub and placed your order. Forget that diet too – the food you can expect in the Czech Republic takes no prisoners. Think: meat, fried bread, lashings of sour cream, great big lumps of smelly Olomouc cheese. Just go with the flow – calorie counting can wait.
2. South Korea
It will never cease to amaze me how under-touristed South Korea is. Maybe people thinking of going to Asia think of Japan, Vietnam, Thailand or China…but somehow overlook South Korea. With the massive international success of its films (Bong-Joon Ho's magnificent "Parasite"), series ("Squid Game") and unique K-Pop style, this could well change. But when we toured the country in 2019, we didn't see many Western tourists at all. The ones we did see all seemed to be expats. It all felt very authentic.
We fell in love with Korea instantly. It's clean, well-ordered, easy to get around and the people are friendly, polite and hospitable. We visited the old walled city of Suwon, Jeonju, Busan, Daegu, Gyeongju and Seoul. We didn't have one bad or frustrating day on the trip. If you are a seasoned traveller, you will know just how unusual this is!
Oh, and the food is simply spectacular. Noodle soups, steaming hot dumplings, deep-fried pancakes stuffed with nuts bought piping hot off a street stall…and kimchi with almost EVERYTHING. We didn't want to go home.
No wonder South Korea ranks so highly in my top 5 travel destinations list!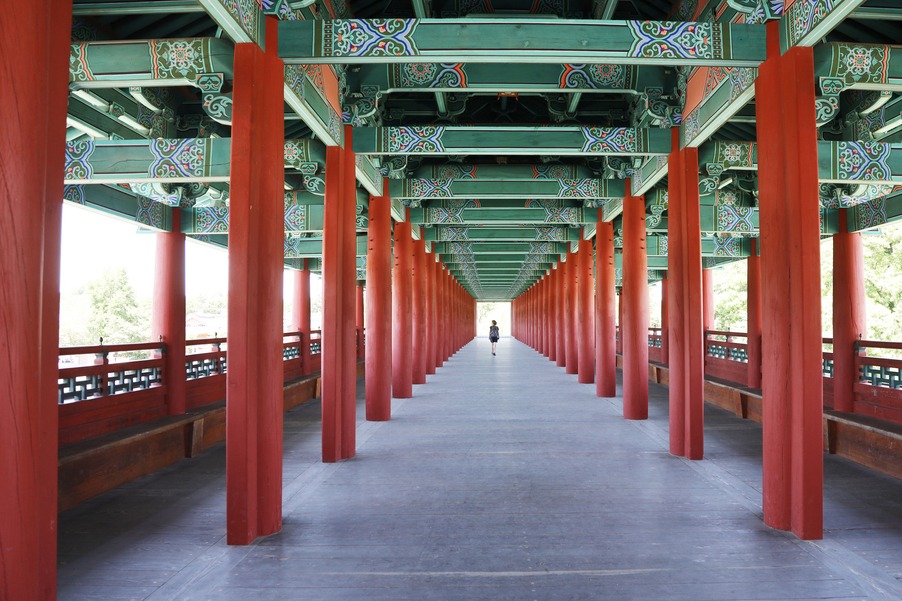 My top 5 travel destinations, No. 1 is…Namibia
Deciding which country should get the top spot in this top 5 travel destinations list was tough! I loved South Korea so much and enjoyed every second of my time there. But it could only ever be Namibia. We spent two weeks there in 2010 and I have been dreaming of it ever since. I believe it is the only journey which has actually changed me as a person.
Prior to going out there, I was a sheltered traveller. The most challenging place I had been so far was China and even there, we had just hopped from city to city on an organised tour. In Namibia, we were on an organised tour again – but camping out in the desert, driving across the vast interior of the country in a purpose-built truck and cooking over the camp fire each day. It was around the time when winter in the southern hemisphere turns to spring, with daytime temperatures soaring to 35°C and dropping to around freezing at night, particularly in campsites tucked away in shady valleys. The extremes, the dry, the dust, the constant work of camping – this trip was physically demanding.
And dear God – the dust! It was everywhere, all the time: in your shoes, in your ears, up your nose, crunching between your teeth. There was no escape. Any shower I gained access to I would jump into. Blocked drains and tiles that hadn't seen the business end of a scrubbing brush for at least 10 years….none of that deterred me as long as I had the chance to get off the day's grime.
The Sheltering Desert
Yet the discomfort and the exertion were worth it. I could never have imagined how beautiful the desert can be and what biodiversity can be found there. From the red sands of the Kalahari to Dune 45 and the Dead Vlei and Fish River Canyon, these ancient, parched landscapes are so other-worldly, one wonders how anything can survive there. It was wonderful to find out about the native tribes (Himba, San, Damara and Herero), the colonial history and Namibia's recent transition to a fully independent nation.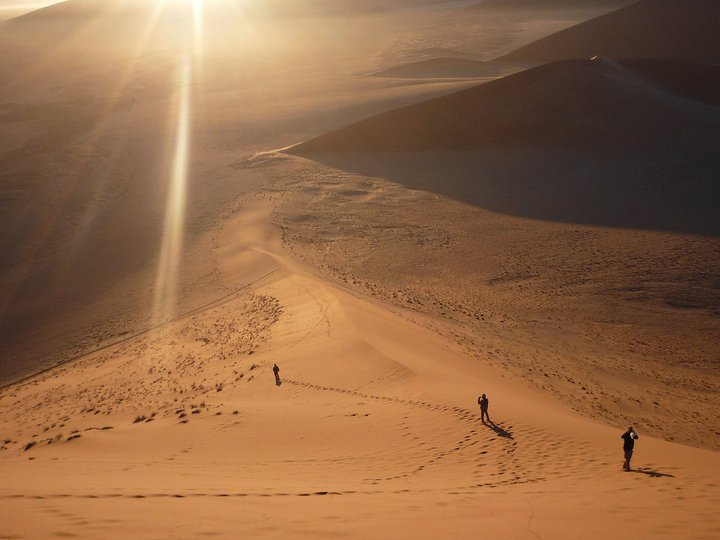 My advice for a trip to Namibia is just LET GO. Eat the oryx steak and the chili fried oysters on the coast. Wash it all down with a Windhoek lager or a Camel Thorn beer in an authentic German beerhouse in Swakopmund before hiccupping your way home down the Bismarck and Mugabe Streets. Be disappointed by the Welwitschia plants. Get cross when you finally sit down to eat after a strenuous day of driving and a gust of wind covers your food with fine sand. If you are camping, lower your hygiene and cleanliness expectations and just get in the damned shower. Beware the honey badgers! Feel free to get overwhelmed by your own emotions watching elephants drinking from a waterhole in Etosha. Get stuck in your own sleeping bag.
And don't forget to buy your copy of "Sheltering Desert" by Henno Martin before you get on the plane home, as I can more or less guarantee you will not be ready to let this amazing country go just yet.
It is a trip you will never forget.
—–
Related articles:
Our weekend trip to Istanbul: Cats, cowboys and cheats