Our weekend trip to Istanbul in April left us with mixed feelings. For everything we loved, there was something which drove us crazy. Here is the good, the bad, and the awful of those few days…
—–
The good
The city cats
The city kitties really were a highlight of Istanbul. The presence of cats in Istanbul is said to go back to Ottoman times and, these days, it is estimated that Istanbullites share their city with 200,000 cats. There is very much a "live-and-let-live" attitude there, with the cats now given robust protection by law. Some are timid, some are friendly – and many love a good scratch behind the ears. We liked how they'd nonchalantly stroll into bars, restaurants – even the Hagia Sophia – and lie down for a leisurely nap. Find out more about the cats of Istanbul in this docufilm.
–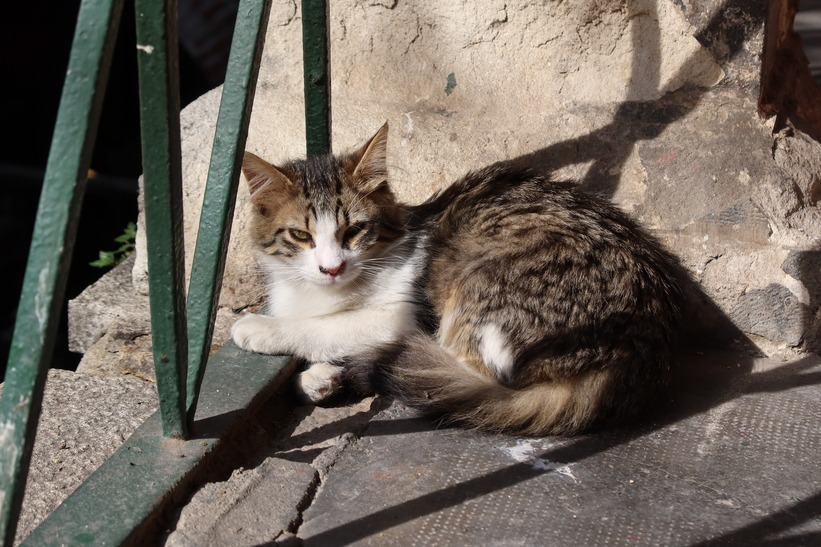 –
Hagia Sophia
The Hagia Sophia is absolutely worth seeing. As a place of worship, as a building of immense cultural and historic significance and as an architectural treasure (see main picture of the central dome above). Get into the queue at 8.30am to ensure a halfway quiet visit. Women should wear trousers and take a headscarf with them: it is a mosque and the appropriate respect should be shown while in the building. You will also be asked to take your shoes off before stepping on the mosque carpet. There are little lockers available outside the main hall, but you can put them in your bag too.
Having been turned back into a mosque from a museum in 2020, you will find that certain mosaics featuring Christian iconography have been covered up or made inaccessible. Therefore, be sure to take in the ones which are still exposed – at least outside of prayer times. Look above the main door to the central hall and above the exit as you leave.
(Although to be honest, if it's a Christianity-Islam architectural clash you're after – go to Spain instead. The cathedral at Cordoba is simply stunning.)
–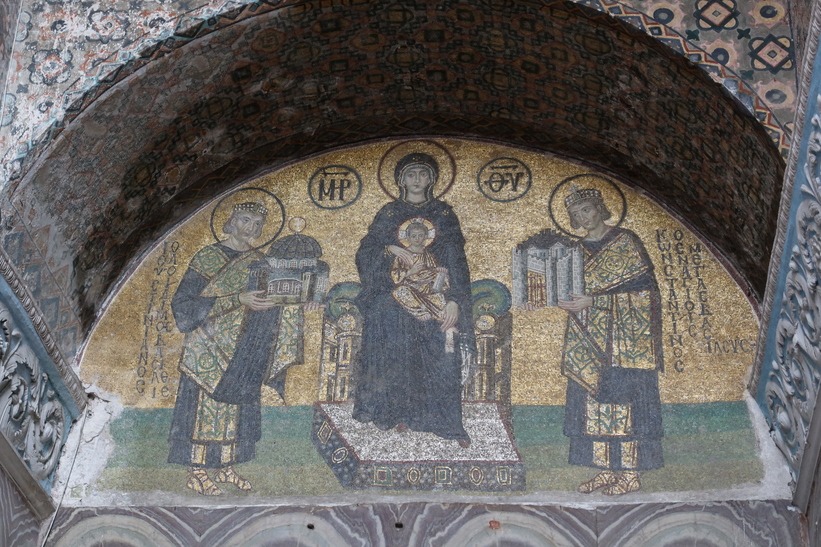 –
Kadaköy
Such a nice little corner of the city – just a hop across the water with the ferry from the Eminönü terminal. Wander the streets, admire the street art, have a coffee in one of the many cafés or even a craft beer. It's also a great place to buy souvenirs like soap – the prices over here are more reasonable than around Sultanahmet.
–
–
The Cowboy
Just opposite our hotel, there was a café called Café Istasyon, in the same building as Otel Esen (next to Sirkeci metro station). This place is run by a Turkish man who styles himself as a cowboy ("Kovboy"). Ironically, he's just about the only guy in the area who isn't one (see below). He welcomed us in on our very first day and we drank Turkish coffee and tea.
The Cowboy was a real gentleman, always helping me on with my coat when we left and even giving me a sweet little plastic ladybird as a token gift. He never overcharged.
There seemed to be several young Afghans in his employ who I guess have fled from their homeland in search of safety and a better life. All had absolutely impeccable manners, just like their boss. It felt like such a safe haven in so many ways and we went back 3 times.
The bad
Overcrowded attractions
Of course, we weren't going to go to have a weekend trip to Istanbul and skip the main attractions. The Blue Mosque, Topkapi Palace, the Hagia Sophia, the Basilica Cistern – all on our visit hitlist. And on everyone else's too. Queues and crowds were always going to be the name of the game.
We weren't quite prepared for just how many people were squeezed into each attraction or how we'd be pushed through them almost cheek by jowl. And this wasn't even high season! Even with an understanding that tourist demand must somehow be met, it's fair to say that this crowding does rather negate the enjoyment (and the dignity) of these precious historic sights. And don't forget – you are paying quite a hefty entrance fee at each place. It feels like you are being milked without the slightest care about what experience you might have.
–

–
The awful
The cheating and the pestering
There's a reason why a film was made about Istanbul called "Scam City". The place is full of dodgy people keen to extract cash off you by means foul.
Even though we were both vigilant, we didn't quite avoid it. A restaurant bill suddenly jumped from 400TL to 600TL when we came to pay. In the bookshop at Sabiha Gökcen airport, the boy behind the counter tried to extract 460TL off me for a book priced €10,50 (at the time, this was about 220TL).
If you walk around in an area with restaurants or shops, the pestering and the calling out from sellers is constant. Some will even follow you for a while, trying to get you to come in/buy whatever it is they have.
Scam city
I had heard that countries like Tunisia and Morocco are quite bad for things like this. That's one of the reasons I avoid them on my travels. Yet for some reason, I believed Turkey wouldn't be quite so bad.
I know that these people just want to make a living – but I feel they would make an awful lot more money if they weren't quite so aggressive. I've haggled and bargained in markets in several countries. It's always been fun; a bit of a game. Of course the seller wants to get as much as possible for his goods; I want to pay what the thing is worth to me. Everyone is self-interested – but in all of these interactions, there was respect. No one lost face.
The guys in Istanbul had none of this respect. To them, you are simply a walking money bag; a dumb westerner to be hit for cash like a piñata at a kid's birthday party. Whether you are left humiliated or not does not matter. Transactions were deeply unpleasant affairs which I avoided as far as I could. Meaning, sadly,  that my money stayed in my wallet rather than being spent and contributed to lifting the Turkish economy.
Our weekend in Istanbul – the conclusion
Istanbul is a fascinating city full of culture, history and good food. But the irritations just piled up too high relative to the things which I enjoyed about it. Getting on the budget flight home along with all the women bandaged up from their budget plastic surgery, all I could feel was relief at leaving Istanbul behind. I won't be coming back any time soon.
—–
Related articles:
Kaunas, Lithuania – love at second sight
—–
Photos: author's own (Katharine Eyre © 2023)