And just like that…I've been living in Vienna for 18 whole years! 18 years since I boarded at plane at Manchester airport, wondering nervously where this would all lead. At the time, I thought it might be a kind of post-graduation gap year. Get a job, speak more German – then head back to London to start a "proper" career. And yet, here I still am in 2022!
18 years is a special kind of anniversary. A birthday, really. And because this was my own life project, I do sometimes think of it as my "baby", born in September 2004. Which means that the "baby" has now come of age. If it was a real person, it would now be ready to spread its wings and go out into the world.
Well, I shan't labour that analogy too much. But, like a mother watching her own child reach a big milestone in life, I also look back at these past 18 years in Vienna and feel all kinds of things. Happiness, sadness, nostalgia, perhaps a little regret too…but mostly great pride in (still) being here and having accomplished the things I have. Here's a little look back through my years spent in a city slowly coming back to life…
Vienna in 2004
When I arrived here in September 2004, Vienna was still a bit of a backwater, perched on the periphery of Western Europe. Although, due to the recent EU enlargement, there was every chance that — 86 years after the demise of the Austro-Hungarian Empire — it would reclaim its status as a key city at the heart of a unified Europe.
The 20th century was not kind to Vienna. For hundreds of years, it had been a grand capital of several of Europe's greatest empires. First, the Holy Roman Empire, then the Austrian Empire. Finally, the Austro-Hungarian Monarchy, which covered vast tracts of land from parts of modern Ukraine and Poland through to the Adriatic and the Balkans. Then came two world wars, the dissolution of the monarchy, the rise of Communism and the souring of relations between the West and the Soviet Union. All this meant a momentous drop in status for Vienna and the new Austrian republic of which it was the capital. The once grand city became a nostalgic outpost, dreaming of better times and uncomfortably close to the 20th century's greatest geopolitical faultline, the Iron Curtain.
No longer a centre of power, the city's old imperial glamour faded — along with its allure for young people. Many of them packed their bags and left for places offering more optimistic prospects. After reaching a high of 2.2 million just before World War One, Vienna's population fell gradually to around 1.5 million in the early 1990s before returning to robust and sustained growth.
A sleeping beauty
Of course, I have no personal recollection of living in Vienna in the 60s, 70s or 80s. But I have heard about it from friends who were there and the words they tend to use to describe the city at that time are: "drab", "grey", "depressing"…or German words to that effect ("triste"). A classic European city with historic charm, splendid culture and its own ingrained ways of doing things…but with a clear sense of the best being long over. Struggling to process a dark past and facing an uncertain future among the ruins of empire.
Even when I arrived here in 2004, 15 years after the fall of the Iron Curtain, Vienna was still a kind of historical relic – an ornament preserved in aspic. Beautiful "Gründerzeit" houses from the turn of the 19th/20th centuries were often in a run-down (if not dilapidated) condition. Many of them had bathrooms built in in strange places — just to fit in with the old pipework. It was still quite possible that, when you went to look at a room or an apartment for rent, the shower would be in the kitchen, or even the living room! The toilet was often a communal facility located outside the flat in the corridor.
Living in Vienna; a city set in its old-fashioned ways
And a lot of the people here liked it just so, thank you very much! How I railed against some of those outdated, fuddy-duddy customs. Their weird obsession with academic titles – not to mention the classic Viennese pastime of grumbling ("granteln") about every single thing. Cheer up, people! On the other hand, I delighted in the classical beauty of the palaces, museums and traditional cafés where you could sit down and while away the hours for a price of a single coffee. In the more traditional coffee houses, "having a quick coffee" and asking for the bill when the drink is set down in front of you is just not the done thing. One must take TIME! Modern fashions for stress and hurry meet a stubborn resistance in these velvet-lined cultural bastions.
Cheap rents ensured that the city was still affordable to a wide range of people from all walks of life. From the rich bank managers with sprawling villas in the leafy districts of Grinzing or Döbling to the lowly workers in the council houses (Sozialbau) in Favoriten and Simmering: everyone could find their place and have a good life. Vienna gave shelter to the eccentric, the creative, the subversive and the idiosyncratic. I loved it.
2004–2010
Over the next few years, the effects of the EU's eastern expansion slowly started to seep into the life, appearance and general vibe of the city. At the time, I was working for a larger commercial law firm with offices spread right across the CEE region, realising my personal ambition to get hands-on experience in this historic transition. Vienna had become a perfect springboard for businesses looking to take advantage of these opportunities and operate or invest throughout the CEE region. It was all going on! Apart from setbacks due to the financial crisis of 2009 and the Covid pandemic of 2020–21, the economic outlook for Vienna has gone from strength to strength.
Yet, even as the city moved into a higher gear economically, many things still remained stuffy and resistant to change. Supermarkets especially were a consistent annoyance. They seemed hell-bent on sticking to the same line of dreary products that they had been offering since time immemorial — nothing creative or interesting or new. It wasn't unusual for me to head over the border to the Tesco in Sopron in Hungary just to get a bit of variety. I still did most of my clothes shopping on visits back to the UK. Crossing the border into economic powerhouse Germany on the train at Freilassing felt like going "back to the future".
Living in Vienna: 2010–2020
From about 2010, change started to noticeably accelerate, and Vienna's city character changed forever. Landmark buildings such as the West Station were modernised. The South Station and adjoining East Station were completely demolished to make way for a huge new central station, which would become a transport hub for the entire region. Large new residential and commercial districts sprang up from the urban wasteland of the former freight station. Older houses were being renovated right, left and centre, with plush loft apartments becoming a favourite investment for the well-heeled. The airport and rail infrastructure were fully refurbished and modernised.
Any lingering frustration about living in a city stuck in the past dissolved as new bars, restaurants, shops and galleries sprang up everywhere. Back in 2006, a friend of mine griped that "living in Vienna is a pastime for old men", and at the time I was inclined to agree. Well, that all changed — young people flooded into the city, giving the city a creative, trendy and dynamic feel. While I wasn't among the youngest anymore (I was in my 30s by then), I took advantage of all the new sights, sounds and services. Living in Vienna between 2010 to 2020 was a long buzz of pleasant excitement. It was relaxed and fun and easy.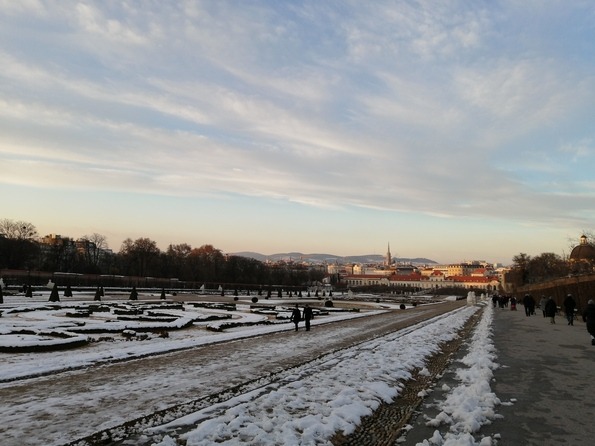 Vienna now and in the future
Now, in the 2020s, living in Vienna feels slightly more strained. Even though there has always been some kind of financial or geopolitical drama bubbling away in the background since 2009, it always felt distinctly manageable or at least far enough away not to have to worry. Now, however, the cascading crises of the past two years have created a clear feeling that we're moving into an era altogether less ambrosial than the one that went before.
Vienna faces a host of challenges. Mercilessly rising rents and real estate prices mean that young people (even those who earn well) are finding it harder and harder to get on the property ladder. This is generating dissatisfaction and political tension. Those on low incomes are getting priced out completely. Add in high levels of inflation, spiralling energy costs, war in the Ukraine and the ever-rising number of refugees and migrants coming into Austria every month and you have a considerable matrix of controversial issues to confront.
Smart management needed
It is going to take a great deal of smart thinking and good management on the part of our leaders to guide us through the coming years. And yet — due to the political scandals that have punctuated the last few years — trust in the establishment to perform this task (or any other) is critically low. It's a disconcerting outlook.
To return to the coming-of-age analogy I used at the outset, it somehow seems appropriate that the 18th anniversary of my move to Vienna should coincide with a broader geopolitical transition and the turbulence that that inevitably entails. Just like a young person moving out of the parental home, the city is moving away from the comfort and ease of the recent past just as a new and uncertain world order is taking shape. Here in Vienna, one knows only too well what these great rolls of history can mean.
—–
Related articles:
Vienna's little treasures – hidden in plain sight (part I)
Austrian German – 10 fantastic words and phrases that everyone should know about
What does it mean to integrate in a foreign country?