Recently, while sorting through some folders full of old emails to see what I could get rid of, I came across the travel diary I wrote to friends and family when I cycled solo across the Alps on the Via Claudia Augusta bikepath back in summer 2010.
The week-long tour, which took me from Füssen in Southern Germany to Bolzano in Northern Italy, was my biggest cycling challenge to date. I was between two jobs at the time, and determined to make the most of this brief period free of obligation, stress and office politics.
It's always interesting to look back on your past writings, and I thoroughly enjoyed reliving the amazing memories which I made while pedalling through the mountains all those years ago.
So, without further ado — here are those Via Claudia Augusta travel diaries for you to read!
[Note: I've only made very slight amendments to the writing to maintain its original character. The diary refers to numerous hotels and companies and prices — since it was written in 2010, the information obviously isn't up-to-date.]
—–
My Big Via Claudia Augusta Adventure!
THE DEAL: 1 girl. 1 bike. 300 km of the Via Claudia Augusta cycle path. 4 countries. 1 map. Many, MANY mountains.
What could possibly go wrong….?
MONDAY: Vienna — Füssen
How to Create the Most Strenuous Train Journey in History — a Beginner's Guide:
1. Time your journey for just after a train crash which has resulted in crucial bits of the rail line you want to travel being shut down.
2. Under no circumstances should you buy a ticket permitting you to use rail companies which allow bikes on their direct international routes. That would be cheating.
3. Good! Now, be sure to change trains at least TWICE — in pouring rain is ideal; bonus points if the station is hard to navigate and you only have 5 minutes to get the connection.
4. As a finishing touch, add a group of 50 screaming schoolchildren to at least one of the trains. Leave to simmer for several hours.
5. Garnish with icky train toilets and upholstery-free seats. Delicious!
When I finally drop out of the train in Füssen, Bavaria — a mere 8 hours after having set out from Vienna's West Station — it's stopped raining but the temperature is barely scraping double figures. Welcome to summer in the Alps! Too bloody cold and damp to do anything. The only thing for it is to barricade myself into the warm and cosy hotel room with beer, food and a football game.
That's the way to do it.
TUESDAY: Füssen — Ehrwald
And off we go! Such momentous events as this first revolution of the pedals should, I feel, be accompanied by some kind of dramatic classical music with violins and a choir. In reality, it's not accompanied by anything other than the local post van and a few old biddies rattling through the drizzly morning with their walking sticks.
No matter — nothing like crossing a border to inject a bit of adventure into things! Barely a kilometre out of Füssen along the Via Claudia Augusta and it's back over the border into Austria. 1 country down, 3 to go….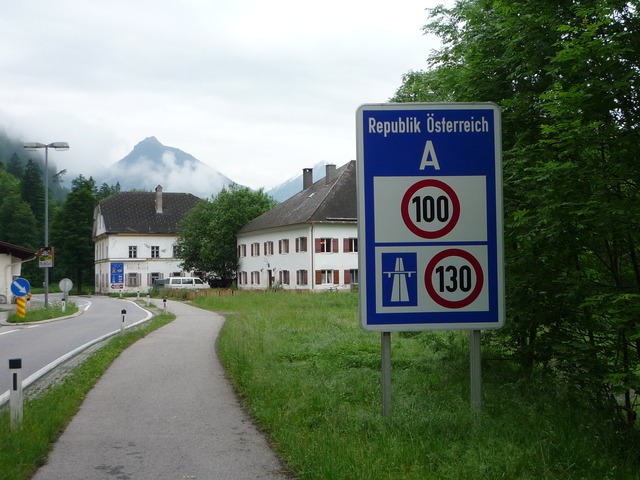 It's all smooth riding until I get to Reutte where the nice asphalt bike path I've been following so far abruptly turns into a steep uphill mountainbike track. As a cyclocross (looks a bit like a racer but is sturdier and has thicker, grippy tyres), my bike is built to withstand a bit of rough and tumble but a 10% incline up coarse gravel with two luggage bags at the back? Forget it!
Now the weather decides to join in the fun and the clouds which have been swelling and darkening behind the mountains now descend, burst and soak me through. Unable to join the road again higher up the valley due to heavy traffic and reduced visibility, the only alternative for forward progress is another mountainbike route which takes me for a BEAUTIFUL detour….through a quarry and a field of grumpy-looking bulls. Cue a further 5km of pushing the bike, sustaining a first injury by whacking a pedal into my own calf and wondering why on earth I inflict these things on myself.
Boy, am I glad to see Ehrwald on the horizon. Tired, wet, mud-splattered and with a squashed worm forming a dashing accessory to the back of my rucksack, the first day of riding on the Via Claudia Augusta is concluded and a hot shower well deserved.
For a small village on the edge of Austria, Ehrwald has certainly got its groove on…in a late 80s sort of way. Not only has it got an internet cafe but also a jazz pub run by a Jimi Hendrix lookalike and carries the dubious distinction of having a hotel by the unforgettable name of "Haus Wanker."
In fact, if you are ever in Ehrwald, definitely pay a visit to Jimmy's Cafe Bistro. The guy makes a decent pizza and has Franziskaner Weissbier on tap. Add a flatscreen TV with all the sport and friendly locals and what do you know? A miserable evening in the mountains suddenly looks a lot brighter.
Wednesday: Ehrwald — Landeck
"Der ist nicht fremd, der teilzunehmen weiß" — Goethe
("No one who knows how to join in is a foreigner.")
Good God! It can't be….can it? No really! It is! The sun! It's shining and the sky is blue! I can even see the top of the Zugspitz (the highest mountain in Germany and the natural border to Austria) out of my hotel window. Magnificent. I celebrate the positive turn in weather fortunes by stuffing my waterproof anorak firmly to the bottom of my luggage bag. Ha!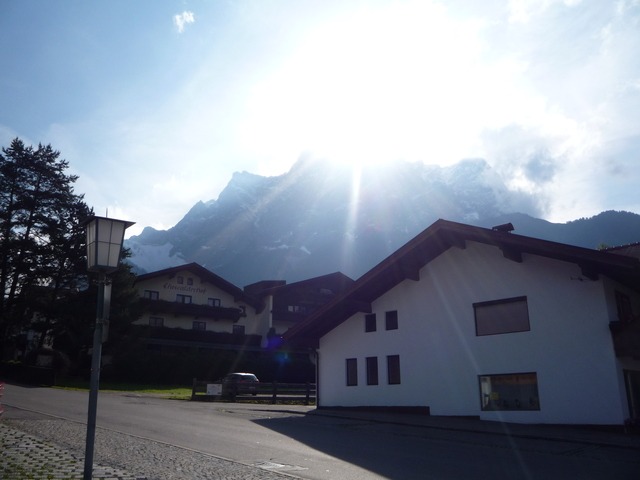 The first hurdle to overcome today (literally) is the Fernpass: the first of two alpine passes on my route along the Via Claudia Augusta. This is apparently something called a Sturzstrom which is a bit like a landslide when a whole bit of a side of a mountains breaks off and goes skidding down the valley. Which sounds a tad scary, but since this all happened about 10,000 years ago I reckon the geology is pretty stable right now.
Still not a friendly place for cyclists though. Every single cycling guide for this stretch of the Via Claudia Augusta described the road as narrow, windy, very busy and generally not much fun on two (non-motorised) wheels. The only real possibility for getting across under one's own steam was a half-delapidated mountainbike track. Which, if you had anything more than a rucksack with you wasn't a wise choice either. A few brave souls were attempting the crossing but for me, the best alternative was the shuttle bus service, run by the Zollner Travel Agency.
This runs 3 times per day from Lermoos and Biberwier (the neighbouring villages to Ehrwald) and for EUR 11 takes you, your bike and your luggage safely over the Fernpass to the Fernsteinsee where the proper bike path resumes. Today, there's only three of us on the 9:30am service: me and a couple from southern Germany who are also following the same route. We have a pleasant run over the pass, and are all glad that we took the bus; once we hit the pass road proper, the traffic was just solid.
After brief stop at the Fernsteinsee, a small but picturesque mountain lake of bright turquoise, complete with mini gothic castle, I rejoin the Via Claudia Augusta which leads through several kilometres of VERY bumpy woodland; roots and stones galore. I comfort myself by telling myself that this hammering is all to the greater good, as it is improving my bike-handling skills vastly. My wrists and shoulders were not terribly convinced.
Thankfully, this type of riding isn't going to form the main part of today's leg. After Nassereith, the road ran into the lovely Gurgltal, a broad valley full of alpine meadows, picture book villages and snow-capped mountains…in fact it's pretty much how every foreigner imagines Austria to be. The local farmers still cut their hay with scythes for goodness' sake.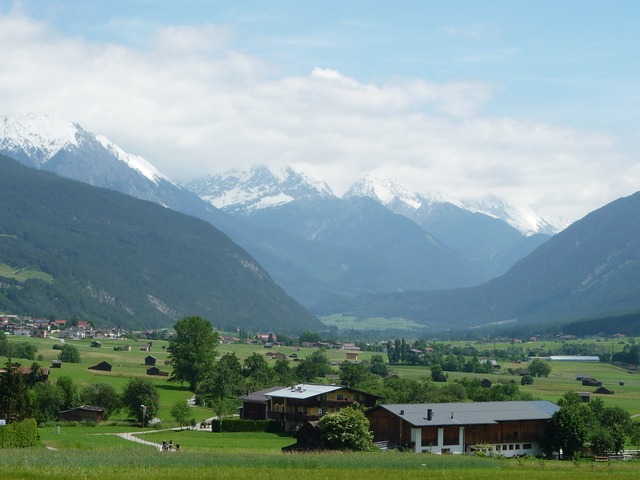 My destination for today is Landeck. The name basically translates as "Corner of the Land" and when you look at where it is on the map there could hardly be a more suitable name. It's lodged right at the intersection of Tyrol, Vorarlberg, Italy and Switzerland. Germany isn't that far away either. Even when giving the places their names, the Tyroleans call a spade a spade and I like that alot.
By the time I arrive there in the middle of the afternoon, the temperature is nudging 30°C, I've got a hard crust of salt clinging to my face and I've drunk all my water. I'm kind of looking forward to getting into a nice cool hotel room….
…which, when I eventually find it, is totally worth having had to hoik my bike and luggage up three steep flights of stairs in the heat. Gasthof Greif is a top tip for a stay in Landeck. The house, full of shadowy staircases, uneven floors and thick whitewashed walls, dates back to the 1600s and is now a friendly hotel with excellent value for money. My single room — ensuite with TV, breakfast and a beautiful view right over to the castle — cost only EUR 34 for the night: and that was with a EUR 3 surcharge for a single night stay. Bargainous! I'd recommend it to anyone.
The number one (or, better put: the ONLY) attraction in Landeck is the medieval castle, a short walk away from Gasthof Greif. Although most of it was in German only, thus limiting the appeal for anyone who doesn't speak the language, the permanent exhibition on the history of Tyrol and the Tyrolean people was fascinating.
Perhaps it's due to the harsh geography of the place (once you discount the mountains, viable living space in Tyrol is at an absolute premium — which now explains why it's so expensive) or perhaps it's the fact that — until the invention of modern transport methods — your world was pretty much restricted to a single valley, maybe two, making it seem as though Tyrol WAS the whole world. But whatever it is has created a very distinct identity and personality. I never met a Tyrolean who wasn't extremely proud of where he/she came from — an attitude broadly similar to the old adage "if it's not from Yorkshire, it's sh*t."
It's exactly this pride in one's heritage and connection to the "Heimat" ("homeland") that is the central theme of the exhibition, covering not only the customs and the everyday life of the Tyroleans in Tyrol, but also those who had to flee due to the harsh living conditions. In fact, in the mid 1800s, several hundred Tyroleans set sail for Peru, where they founded Pozuzo, a small community high up in the Andes. The living there wasn't much easier than back home, but they survived and even today, 20% of the inhabitants of the village of Pozuzo are the direct descendants of the original colonists. There are still strong links between the modern Peruvian community and the old Heimat; many of the customs are kept alive.
Perhaps they practice "Scheibenschlagen"? In some parts of Austria, the end of the winter is marked by doing something daring with fire. As far as I've managed to gather during the last 6 years here, the most prolific pyromaniacs are the Vorarlbergers (that's the westernmost province in Austria: also very mountainous), who celebrate the end of the cold with "Funken" ("sparks") which consists of lighting a huge bonfire with a witch figure on top and then consuming vast amounts of alcohol while standing slightly too close to said bonfire. This is also done in Vienna due to half of the population of the "Ländle" having migrated east to find work.
Scheibenschlagen ("disc-throwing") is apparently something which is only known in the valley where Landeck is situated and the Vinschgau — another valley in South Tyrol (Italy) which I'll be riding through in a few days' time. And it certainly takes the biscuit for the biggest health and safety risk…no chance of it taking off in over-cautious, litigation-fearing Great Britain! This one entails sticking lots of wooden discs (each with a diameter of about 15cm and a hole in the middle) into the fire until they are red hot. Then, a song is sung in thick Tyrolean dialect, each disc blessed or dedicated to a certain person and then lobbed ceremoniously out into the night. One rather hopes that they check if there's anything/anyone in the way beforehand….
Thursday: Landeck — Pfunds
Just a short ride today. Easy peasy. Just 30km from Landeck to Pfunds close to the Swiss border. I've got a tough day lined up tomorrow, so I'll just take it nice and slow and enjoy myself. The route is all on bike paths and quiet roads and the only thing to watch out for is the Reschenpass motorway (mega-busy, multiple tunnels, allegedly banned for cyclists in both directions since 2007), but that shouldn't be a problem since my chosen route along the Via Claudia Augusta bypasses it completely.
Zooooom! Out of Landeck. Swoooosh! Along the River Inn to Prutz with its stunningly clear views of the mountains. Jjjjjuuuuummm! Speeding through fields of freshly cut hay, thinking how cool it is that those mountains over there are in Switzerland and completely ruining the peace of the place by sneezing every 5 seconds (damned hayfever!). And isn't that the Reschenpass motorway over there? Blimey it does look busy. Glad I'm not on that!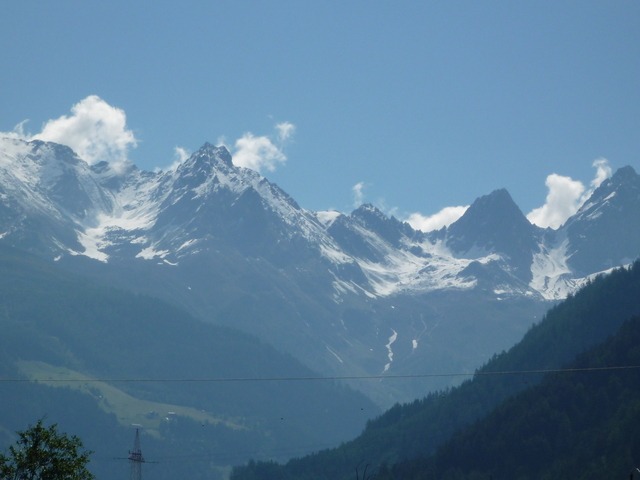 I should be getting close to Pfunds now. I've just ridden through the neighbouring village of Tösens at least and the next cyclepath sign indeed tells me that I am riding towards Pfunds and the Swiss border. Great — right on track. A shower and a nice relaxing afternoon in the sun reading Dr. Zhivago — just the job!
I follow these Via Claudia Augusta signs under a bridge and onto a road leading uphill where the forest path peters out. There's a fair bit going on but I'm guessing that the bike path will start again a few metres up the road.
However, after a couple of kilometres there is still no sign of any bike path. In fact I'm pretty high up on the mountain already and instead of the nice green valley there is what you can quite reasonably call a ravine on my right hand side. The traffic in both directions is increasing by the minute: car after car after car, a massive group of motorcyclists and several caravans speed by in quick succession.
Which all adds up to making me feel a bit nervous. And isn't helped at all when I pass a sign informing me that rockfalls are a serious danger in this neck of the woods. Judging by the enormous rock face stretching heavenward on my left side, I do not doubt this in any way. But the bike path signs are still pointing to Pfunds so I carry on.
Then, under the humdrum of cars and caravans, a lower bass roar makes itself noticed. And gets louder.
Oh CRAP. A lorry. And by the sound of it a bloody big one too. However, turning round to take a look will entail turning my shoulders. Which might make the bike wobble. Which might bring me further into the path of the oncoming traffic. Which would definitely not be good. So I keep on pushing the pedals up the incline, listening to this lorry getting closer and closer and closer and which now sounds to have taken on gigantic dimensions…or at least enough heft to take up more than half of the road. CRAP!
Think happy thoughts! Think happy thoughts! Maybe it's one of the Eddie Stobart lorries that I used to watch out for on the English motorways? The ones which all have a girl's name. Oh yes, that would be nice…if I'm going to get run over by a lorry at all then I would definitely want it to be an Eddie Stobart! And, at the end of the day "run over by a truck on the Austro-Italo-Swiss border" is an infinitely more appealing epitaph than "choked to death on a Käsekrainer".
Yes, ladies and gentlemen…at this moment I am absolutely convinced that this is it, I'm going to meet my maker, it's curtains; thank you and good-
SWOOOOOSH! The lorry passes me: a big bugger loaded with logs that creates a draught strong enough to almost push me into the barrier and put an ample dose of dust into the old respiratory system. But it didn't run me over — bonus! It wasn't an Eddie Stobart after all.
Now I haven't seen any more Via Claudia Augusta cyclepath signs for quite a while and I'm starting to wonder whether I really am on the right track here. Better find a decent place to stop so I can consult the map. Oh great, that looks like a layby — directly before a tunnel. That's not supposed to be on the route. But seeing as my map has already proven to be a bit useless this doesn't perturb me too much.
What does perturb me is the number of memorial plaques affixed to the concrete barrier separating the layby from the sheer drop into the valley: now about 500m below. Nothing like the presence of a nice bit of death to brighten things up! Being a pass, I reckon most of them will be traffic accidents although — allowing myself to get a bit morbid for a second — this does strike me as a damned good place to top yourself. I mean, if you chucked yourself off here, there wouldn't be much left of you afterwards. In fact, it would be the definition of a job well done.
I still can't work this map out so I just decide to take on the tunnel and see where it comes out. Luckily there's a decent pavement on both sides so I'm able to push the bike through safely. It's just noisy.
The other side is really nice! Four or five old wooden houses, all with beautifully carved gables — such a shame that they appear to be deserted and are starting to fall into disrepair. But really, who could withstand living up here the whole year round? A quick glance at the old post office confirms how time has stood still here: it still bears a sign offering a telegraph service and the old "K. u. K." empire insignia.
Looking at this post office also informs me where I am. Altfinstermünz. Oh no. Oh NO! Thinking back to all the research I did before this trip I know that this is the old toll station at the intersection of Austria, Switzerland and Italy…and that it's reached via the Reschenpass motorway. My breakfast damned near makes a reappearance.
Although what I really feel like doing right now is having a good blub at the side of the road, this is not going to get me anywhere — least of all out of this predicament. There is another bloke on a bike carrying on up the road, but there are two further tunnels that I can see on that route and I'm supposed to be staying in Pfunds which — contrary to those cyclepath signs — lies 10km back in the other direction. There's nothing for it but to get back down into the valley as quickly as possible.
Luckily, the traffic isn't too bad and so, with my heart thumping harder than during the uphill ride, I freewheel as fast as possible back in the direction from which I came.
Once I get to Pfunds — using a footpath and cursing every single one of those stupid cyclepath signs along the way — it occurs to me that, although today was definitely not a great deal of fun in some respects, I just cycled the larger part of an alpine pass — without even realising. Bodes well for tomorrow when the first thing on the agenda is…..another pass!
Friday: Pfunds — Reschen
Today of all days is the day when my digestive tract decides that it's not going to play ball and I can't get my breakfast down. It's nerves.
Despite reading a chunk of Dr. Zhivago (our hero Yurii Andreyvich has just been taken hostage by the partisans on his way back from visiting Lara), trying (and dismally failing) to understand Swiss TV, watching Slovakia give Italy a good kicking in the football and taking in the sights in and around Pfunds, the thought of having to take another portion of highway through Switzerland tomorrow is weighing heavy on my mind. There'll be nowhere near as much traffic on this road since most cars and all lorries headed for Italy will take the Reschenpass to avoid paying Swiss tolls. Even so, after yesterday's little (mis)adventure, the word "highway" is enough to put the wind up me big style. Maybe I should just take the bus again…
No! That would mean missing out on cycling the Norbertshöhe, the pass between Switzerland and Austria…which was what this trip was all about. No, I'll go ahead with it. I'll just get out early and get those 10km of highway behind me before the traffic starts. Be brave, Katharine!
I'm out at just past 8am and am at the Austrian toll booth at Kajetansbrücke within about ten minutes. The barrier is up and the blinds in the booth down: the place seems to be deserted. I'm pretty sure that as a cyclist I'm not going to be anywhere near the top of their levy hitlist but even so, I would rather not spend the early hours of my big day being hotly pursued by an Austrian civil servant (or at any other time, for that matter). When nothing happens, I accelerate and push on toward the Swiss border.
As promised, the road is quiet and the valley still. I'm now riding parallel to the Reschenpass motorway and from here I can see for the first time just how high that actually was. I feel a little pang of pride for having got up there.
I'm so excited to be going to Switzerland. For me it's like this far off land of myth and legend that I'm never quite convinced exists. Entering another currency zone just adds to the old-fashioned holiday thrill of passing from one country into another. I can't wait to show my passport to the border guards. What a disappointment to get to Martina (the first village in Lower Engadin) and remember that Switzerland is a Schengen member so I don't have to. Since it's not a member of the customs union, there are customs officers there (and a weighbridge) but if you turn off left back to Austria, there are no controls. How boring!
OK. This is it. Off we go up the Norbertshöhe. This is a perfect starter pass for an alpine biking newcomer; 11 hairpin bends take you up 430 metres altitude with an average incline of 6–7%. Which is quite enough when you factor in 12 kilos of luggage plus 10 kilos of bike plus a few more kilos of me. But once I lock into the pace, the ride is comfortable and I enjoy counting down the signs at each bend telling me how many I have left to go. 4, 3, 2…..almost there….there's the 1 sign already…I've almost done it! Dead easy!
But with these things, it's never over until it's over. There are some mean passes out there and even this mini-baby-beginner-pass has a sting in the tail. Shortly before the final curve, the road ramps up to about 9% and the cool shade of the trees abruptly ends, spitting me out into the bright heat of the day. The ache in my thighs turns to a strain as the resistance goes up one more notch, my lungs scream and sweat pours into my eyes, making them sting. Why oh why didn't I force myself to eat more this morning? I can feel my pulse climbing higher and higher but I can't stop — not now. Just a few more metres. This is what I've trained for and looked forward these last few months. This is what I really REALLY want. This mountain will NOT beat me.
YES YES YES YES YES YES!!!!!!!! There is no better feeling than this, to have made a dream come true and be standing at the top of my first alpine pass, drinking cool water and taking in the view. If I wasn't quite so knackered I might have done a little victory dance. Oh YES YES YES YES YES!!!!!!! To put the cherry on the cake, 5 blokes — all on top of the range bikes and clearly experienced in the sport — cycle past, smiling and nodding acknowledgement. It's nice to be part of the club.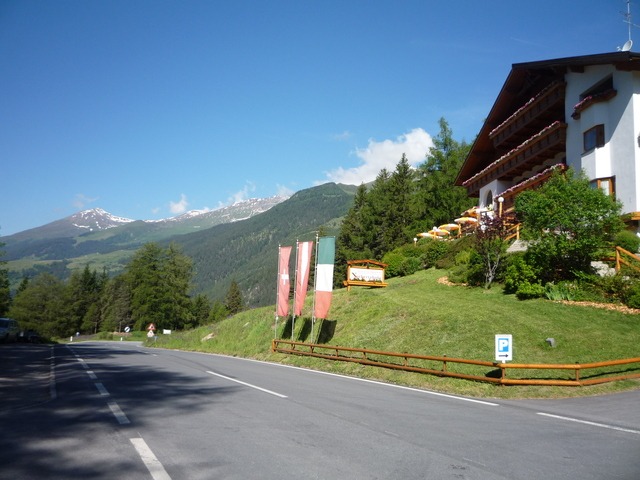 The remaining metres of climbing through Nauders to the crown of the Reschenpass and the Italian border pass by painlessly. A swift drop and there's the Reschen Lake, bright blue and glistening with the snow covered Ortler mountain range seeming to dam it all in from the back. Now this really was a sight to be seen. In fact it was so incredible that I'm a bit unsure as to whether I'm actually seeing it or whether I'm just so dehydrated from biking the pass that I've started to hallucinate. Still on a complete high from my pass victory (YES!), I decide to circumnavigate the lake.
The Reschen Lake is home to one of the most curious sights in Italy, if not the whole of Europe. Close to the eastern shore of the lake, about half the way down, a church tower stands — shorn of all context — in the middle of the water.
A quick study of the information stand close to the bay where the tower is situated reveals that this incredible sight is all that remains of the ancient village of Altgraun (Italian: "Curon"). After South Tyrol's annexation by Italy in 1919, the fascist government took up a project to dam the valley and raise the water level of the three existing natural lakes by 5 metres to produce hydroelectric power. This would not have affected any of the old villages scattered across the flat valley floor and would have left the pasture farmed by their inhabitants for centuries largely untouched.
However, plans were changed. The water was now to be raised by a total of 25m — which would swallow up several 1000-year-old villages, including Altgraun. Since South Tyrol did not get a provincial government until as late as 1949, the people of the region did not have any political means to counter this decision. The settlements were dynamited, the inhabitants turned out of house and home and land; all for a miniscule compensation. By 1950, all that remained of this once thriving community was the old church tower.
And once you're there, you just can't take your eyes off it. You're afraid to blink just in case it disappears. I wander around and around on the beach, through the car park and down to the beach again, sitting on the grass — only to get back up again to find another spot. Just looking and looking and looking.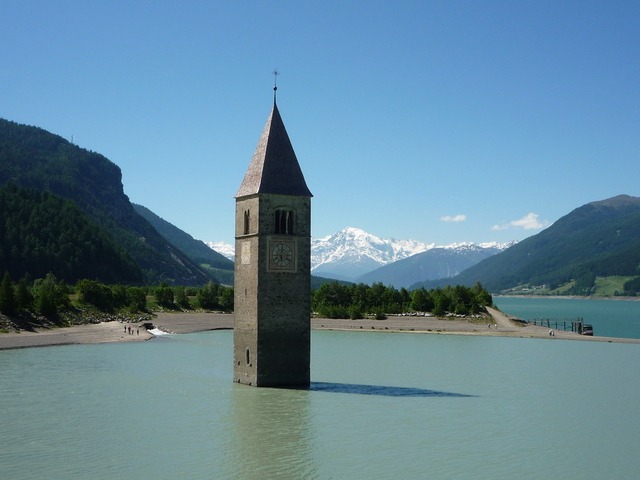 I might have stayed there until nightfall had the storm clouds not begun to set in from the Ortler mountains. There's just enough time for a beer and a dinner of Tyrolean dumplings before the heavens open. But to be honest I don't really see much of what's going on outside — I was asleep before my head hit the pillow.
Saturday: Reschen — Merano
This is the marathon leg of the trip. While all the other days' distances have ranged between 30 and 50km, today is going to cover almost 80km of the Via Claudia Augusta path from Reschen down through the Vinschgau valley to Merano.
So two things are already clear when I wake up, namely: (1) my bottom is going to be VERY sore when I get to Merano this afternoon and (2) I'm going to need to tank up well at breakfast.
No trace is left of the storm last night: the morning is bright and blue and just waiting to be ridden through on a bike. The breakfast room in the hotel affords a great view over the lake and the buffet is mouthwateringly good: marble cake and bread rolls and muesli and ham and cheese and eggs and mugs and mugs of hot coffee. I put away far more than is truly comfortable and end up with a distended "breakfast baby" belly, but it soon goes once I get in the saddle.
Once more down the eastern shore of the Reschensee and then southwards towards those big white mountains on the horizon.
And actually, there was no need for that big heavy breakfast because, after the brief half circuit of the lake, it is ALL downhill! For 30km, there is no need at all to pedal and the only calorie-burning exercise going on at all is holding onto the brakes — HARD. Still, getting off every so often in a picturesque medieval village complete with ancient churches and fortifications to allow the brakes and wheel rims to cool off really isn't THAT much of an inconvenience…
Also, as the altitude drops, a whole new kind of landscape appears. Instead of the classic flower-filled alpine meadows which have been my constant companions throughout the trip, I'm now surrounded by acres and acres of fruit plantations. It's mostly apples, but also pears and grapes too, with ancient castles perching right up there on the tops of the –
OOOOF!, blimey — nearly went off the road there! Eyes off the scenery and back on the road, missus!
It's 34°C and almost 4pm when the road finally dips down into the Merano valley. This is the biggest town I've ridden through on this journey — and with urban navigational skills of a calibre best referred to as notoriously shit, I'm setting my ETA at the hotel for approximately 7pm.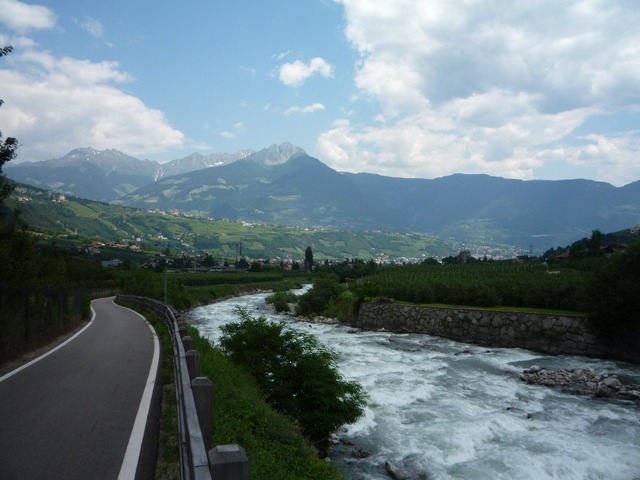 The only rooms which were halfway affordable for one night's stay in Merano were outside of the town itself and up among the vineyards. My hotel was in a village called Gratsch (Italian: Quarazze) and in the end I arrive there — hot and thirsty — at 5pm. At this point I don't care how much I'm stinking or how bad I look. I just biked 80km across South Tyrol for goodness' sake and if that doesn't give you the right to look like you've been dragged through a hedge backwards then I don't know what does. And I think that cycling 80km is pretty impressive. I'm sure the guy at the hotel reception will, too.
"Hi, I've got a single room booked for one night — under the name Eyre."
[Pause for having to spell surname 7 times, filling out registration form, handing over keys and the usual spiel about where the room is, when and where breakfast is blah blah blah]
"So, where did you bike from today?"
[Ha! Yes! Here's my chance to show off a bit.]
"From Reschen on the Via Claudia Augusta — about 80km in all."
[I'm feeling VERY smug indeed right now.]
"Then why are you so tired? That's easy — it's all downhill."
That wasn't meant to happen. Talk about the wind being taken out of your sails…dammit dude — BE IMPRESSED! Well, there's obviously no pleasing him, so I stomp off to the shower and spend the afternoon in town instead.
In terms of architecture, Merano is quite similar to Innsbruck and Bolzano: lots of tall town houses with arcades on the ground level and networks of small alleyways connecting one street to another. But unlike Innsbruck, the landscape has a thoroughly Mediterranean feel to it. Everyone and everything is bilingual Italian-German so I have no problems getting around.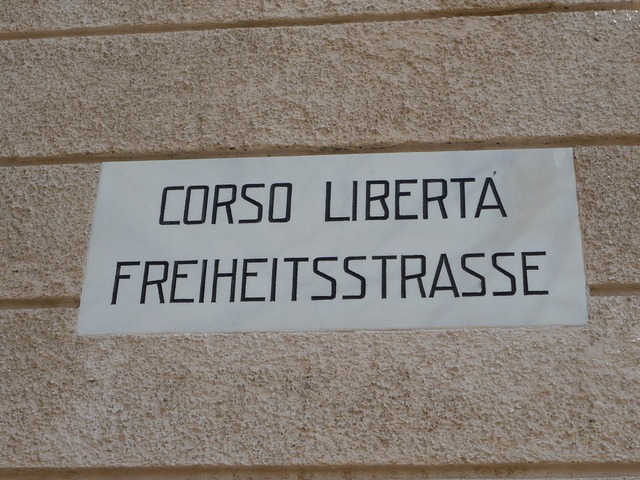 It's a Saturday evening and everyone is out on the river promenade. A jazz band is playing, the sun is turning the remaining clouds in the sky red and having a big ice cream in your hand looks to have been made a legal obligation. Oh, well — if you insist….I'll have one scoop of strawberry and one of chocolate, thank you!
I can't believe it's almost the end of my trip already. It's gone too fast. In 48 hours I'll be back to reality in Vienna. How nice it would be to stay here in the mountains with the sun and the sport and the ice cream. Maybe in my next life I will try and come back as a mountain goat or something. Just wandering around up there among the rocks all day, munching grass and never having to think about contracts or deadlines or office politics and stuff. Sounds pretty good to me.
Sunday: Merano — Bolzano — Innsbruck
That's it — all over. The final kilometres to Bolzano flash by and before I know it, I'm sitting in front of a cafe on the main square drinking a (terribly expensive) double cappuccino.
I've sat in front of this cafe before — on my first visit to Bolzano on Easter Sunday 2008. God what a miserable day that was! Pouring rain, really cold and all the shops and restaurants were closed except for this one cafe which was full so I ended up huddled up outside eating garlic creme soup as that was the only thing on the menu that I could afford. Urgh. I remember that being the first and possibly only time on all my solo travels that I ever felt lonely.
However, I'm pretty sure that this particular bout of gloominess had something to do with having been not-so-happily single at the time and seeing the Ponte Talvera, a bridge just outside of Bolzano's old town. This otherwise completely regular bridge is remarkable due to its completely irregular accessories: the wrought iron girders are decorated with big bunches of padlocks — and not just any old padlocks, but LOVE padlocks. This phenomenon can be seen in various cities all around the world from Ljubljana to Tokyo to Moscow to Stockholm to Montevideo and all sorts of places in between.
The idea is to take your padlock and write/engrave/scrawl your name and your current lover's name on it in any way you can and perhaps also a message and a date and then affix the padlock to the chosen structure. This is mostly a bridge — I suppose because they have handy railings suitable for putting a padlock on but also because they provide a very convenient opportunity for dramatically tossing the keys into the river below, thus sealing your mutual affection for ever and ever in a melodramatic, Rosamunde Pilcher kind of way.
Despite being a cynical old bag already in some respects, I was now in a happy relationship and the idea of this silly romantic gesture appealed to me. As soon as I knew I'd be in Bolzano again, I decided to get myself a padlock and do the deed. The only problem was that — my tour having been spontaneously reorganised in a bit of a rush to catch the good weather while it lasted — I didn't have time to go to the hardware shop in our street to buy one. And you wouldn't believe how hard it was to find one in Tyrol!
I searched high and low in Ehrwald and Landeck but not one padlock was to be found. Judging from the generally lax attitude to locking things up in these parts (i.e. bike sheds), this shouldn't have been such a shock. Finally I found one in Pfunds….the guy who helped me to tighten up my brake springs just happened to have a padlock on sale for EUR 2.50. SOLD! To the lady on the white Merida! I chose the item on my bike multitool that I thought least likely to matter if it got blunted and etched "K & C" messily into the plate-metal.
[By the way readers, do not fear. I have not gone completely soft in the head. This did all make me want to puke a bit, but being the tough gal that I am, I gritted my teeth and got through!]
Anyway I find the bridge again and affix the lock but do not throw the keys in to the river but use a nearby rubbish bin to dispose of them — even in a fit of wild romantic passion, one is committed to preserving the environment!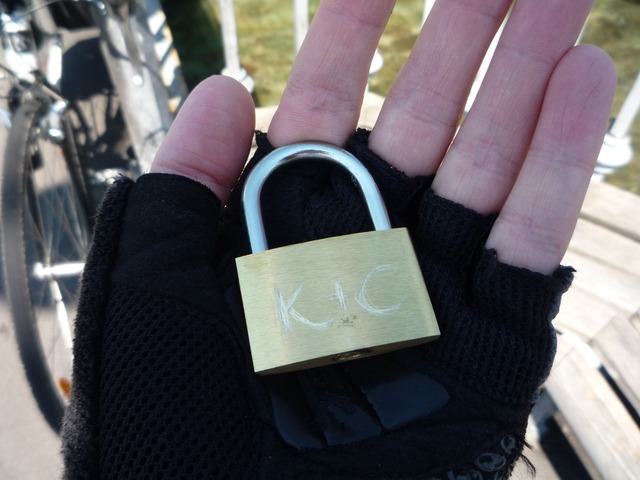 Right, that's quite enough lovey-dovey-sugar crap for one day…time to focus on the far more practical question of how I'm going to get over the Brenner Pass to Innsbruck, where I'm staying for my final night.
When I came to Bolzano in 2008, I took the train from Innsbruck and it was a direct connection — dead easy. But any hope of a smooth border-crossing are dashed when it turns out that no bikes are allowed on the direct route. If you are accompanied by two wheels, then only regional trains will take you. And since they are regional trains, they throw you out at the border here you have to take another regional train belonging to the country on the other side. What a palaver.
No matter. One is a resourceful young woman and one will not hesitate to use one's feminine wiles to get one through such trials. I take a look around for potential helpers. Those army recruits over there? No…they look to be humping half a campsite into the train already and are unlikely to have time to hoik my bike onto the train aswell. Those suave looking guys over there with the blow-dried quiffs? No….they'll be too afraid of getting oil on their pristine designer jeans. Aha! There's a mountainbiker over there looking suitably swarthy…yes, he'll do!
One shameless playing of the "lone female" card and flutter of my salt-caked eyelashes later and I'm sitting comfortably in the train down from the Brenner with my bike hung up neatly in the designated car, exchanging bike stories with Munich mountainbiker man. Score!
Innsbruck is always worth waiting for. I love it. If someone would pay my removals costs and find me a decent job there, I'd be straight out of Vienna and over to Tyrol.
Once I've cleaned up, watched England getting the thrashing of a lifetime by Germany in the World Cup (ouch!) and got settled into my favourite pizza place, it's time to do a round up of the trials and tribulations of the last week on the Via Claudia Augusta.
Km: 300
Bolts lost off bike: 1
Pizzas consumed: at least 6
Passes crossed by bus: 1
Passes intentionally cycled: 1
Passes unintentionally cycled: 0.5
Times cursing the useless bikepath map: too many to count.
Best moment: conquering the Norbertshöhe.
Worst moment: the Reschenpass motorway. No further explanation required.
Best hotel: Gasthof Greif, Landeck: so charming, so comfortable, such good value.
Best show of cyclist solidarity: the guy from St. Moritz who was so involved in giving me directions that he almost got run over by a bus.
Recommendation? Do it! The Via Claudia Augusta bikepath is good, clean, alpine fun for all the family. Just remember to take the bus over the Reschenpass…
—–
Related articles:
The best hike ever – climbing the Gehrenspitze in Tyrol
The Hochblaser: this mountain and me were not meant to be
The Soleweg: my 2007 hiking adventure
Running the Wachau half marathon…on my lonesome, just for the heck of it
The Thayatal National Park: a magical autumn hike through European history
—–
Main picture: me & my wheels on the Via Claudia Augusta bikepath at Lake Reschen, Italy.
All photos (excl. main photo): author's own (Katharine Eyre © 2010)