Going through old emails just after Christmas, I found a number of travel diaries from my past adventures. These ones go back to hiking the Soleweg path in the Austrian lake district in August 2007. The area — boasting snow-capped mountains, glaciers, crystal clear lakes and notoriously fickle weather patterns — is called the "Salzkammergut" due to the salt mining activities there which go back thousands of years.
The Soleweg hiking path follows the line of a 15th/16th century brine pipeline for 42km from the village of Hallstatt to Ebensee on Lake Traun. My plan was to walk this distance over two days, and then cover the last 17km or so north to Gmunden to take the train home.
Remember, this was before I had a Smartphone, so I just had an old-fashioned paper map with me to find the way…and even that seems to have foxed me at times!
It was an eventful weekend…
—–
Hi folks,
I have been threatening to do the Soleweg (a hiking path which stretches 42km from Hallstatt to Ebensee along the route of an old salt pipeline) for at least a year now. So, on Saturday, still suffering from serious post-holiday blues and with the prospect of that rare and beautiful thing — a whole weekend of good weather in the Salzkammergut — I finally got my act together and did it. This is what happened.
Saturday 18th August — a.k.a. DAY 1 on the Soleweg
12:30pm: Arrive in Hallstatt after the most hair-raising (ersatz-)bus journey of my life from Bad Ischl (there were rail maintenance works going on). A 40-year-old bus with creaky brakes, a bus driver who looked like he had just escaped from a 1960s porn movie, kamikaze motorcyclists…need I say more? Even the bus conductor had white knuckles.
1.15pm: Just about recovered from the bus journey and with the ascent to the start of the Soleweg complete, I am skipping merrily along enjoying the brilliant sunshine when I notice a small plaque stuck to the rock face next to the path. It commemorates a girl who fell to her death in 1940 while picking flowers here. Poor thing. But quite heartwarming to think that, at 18, she was still doing such innocent things. I know what I was doing at 18 and it definitely wasn't anything as salubrious as picking flowers. And yet I am still here to tell the tale. Maybe growing up in East Yorkshire wasn't so bad after all.
1.45pm: I think I've taken a wrong turning. I thought I was heading to Bad Goisern, but I seem to be on the road to Gosau with no blue Soleweg path markers in sight. But I keep going anyway — Bad Goisern might be on the other side of Gosau.
2.15pm: I am pretty far along the road towards Gosau now. All of a sudden, a police car draws up beside me. The policeman driver leans over and asks me where I am heading. I tell him Bad Goisern. Looking baffled, he tells me that I am on the wrong side of the mountain: Bad Goisern is over there, not over here. But he's heading to Gosau now, and I can get a bus from there back to Bad Goisern in about an hour, so why don't I hop in? I've heard Gosau is really nice, so I accept the offer.
So there I am, sitting in the passenger seat whizzing towards Gosau, slowly disappearing under the heft of his large and rather smelly dog, Aris, who seems delighted to plonk himself down on my lap. I wonder whether I should tell my parents that I got lost in the mountains while hiking the Soleweg and was picked up by the Austrian federal police. Probably not.
2.30pm: Gosau is not really nice. It is REALLY REALLY REALLY nice! And although I am right off track in terms of the hike I originally planned, it has actually turned out fine, as I can indeed get a direct bus back to my planned route from here (departure 3.11pm). I decide to pretend I ended up here on purpose.
4pm: Disembark the bus at Lauffen, a small village on the river Traun, about 3km south of Bad Ischl and rejoin the Soleweg. Very peaceful stretch of woodland with lots of signs with historical and nature info.
4:45pm: Arrive in Bad Ischl, the favoured summer retreat of the Habsburgs and countless other politicians, composers, writers and poets of Austria-past. Quite grand, with spacious villas crammed in here, there and everywhere. Yet — as you might expect from something with its history — the place is almost unbearably twee. The residents seem happy to play up to the cliché though: every second person is wearing the traditional "Tracht" (Dirndls, Lederhosen etc.). I locate the famous (and posh) Zauner coffee house but don't bother going in. After hours of hiking, I am a bit stinky to say the least so I opt for a snack from the supermarket opposite. Get chatting to a bunch of very fit mountainbikers while I'm in there though, so it's a good decision all round.
6:45pm*: Arrive in Ebensee on the southern shore of Lake Traun, where my digs for the night are. Ebensee, it has to be said, is not the most attractive of villages— and this is not helped by the fact that there used to be a concentration camp here during WW2. However, the dreary character does mean that there are always beds available in the youth hostel at short notice. Clearly, no-one really wants to stay in Ebensee unless they have to.
Said youth hostel is in the nicest part of Ebensee, close to the beach where there are great views to be had of the mighty Traunstein catching the last rays of evening sun. The hostel is clean, friendly, cheap and well-run and I end up sharing a room with a music teacher from Graz who gives me loads of tips for my next trip to the area. Fall into bed with aching feet and sleep like a log — fresh air can be so tiring!
[* I may have taken a train at some point between Bad Ischl and Ebensee: 2 hours seems a pretty short time to cover 17km. Either that or the times given are wrong.]
Sunday 19th August 2007 — Day 2 of the Soleweg adventure
7am: Wake up. Rediscover the disadvantages of staying at a lakeside resort in the summer: have acquired 3 mozzie bites in the night. Ouch.
9am: Have breakfast with my roommate, pay up and then get on my way. It is a lovely morning without a cloud in the sky. The weather is so nice in fact that I even start to have more charitable feelings about Ebensee — no mean feat.
10am: This is incredible! Even though I am just walking along roads, the views northwards across the lake to Traunkirchen and Gmunden are breathtaking — you just don't get the right impression from the railway, which runs further back from the shore. Snap one photo after the next.
10:30am: Arrive in Traunkirchen and stroll around the grounds of the church, the war memorial and the village: all very nice too but nothing is open at this time on a Sunday morning. Onwards and northwards it is, then.
11am: The 6km stretch from Traunkirchen to Altmünster seems to go on forever but does give me plenty of time to let my mind wander and consider important things like: the future. My career. The state of one's lovelife. How much my feet are hurting. Is that a blister I can feel?
11:30am: Altmünster. Locate the church which is the starting point for the next leg of the adventure: the path over the Gmundnerberg. It's at this point that I start to have very un-Austrian and very British thoughts.
What I mean by this is that the Austrian attitude to mountains tends to be something in the region of "YIPPEE! Let's climb it/slide down it/build a cable car line/blast a hole through it" whereas the British take is more like "Oh look! There's a mountain! Isn't it pretty? But let's just leave it where it is and go to the pub and talk about B-roads instead".
And, right enough, at this moment, the thought which is going through my head is "can I truly be arsed?" As powerful as the urge to be a lard-arse is, I counter the lazy-git within by arguing that I did not walk this far to give up now. The aim here is to integrate (and thus reprogramme my attitudes somewhat) and that the views from the top of the Gmundnerberg will be worth the extra effort. Onwards and upwards it is then.
1pm: Wow. Seriously. WOW. You can see for miles up here! I can see Gmunden, I can see Seeschloss Ort, I can see Altmünster and Traunkirchen and the little alpine meadows in between, and then right over to the serious mountains beyond. The Traunstein, looking more like a computer animation than ever, is wearing a little white fluffy hat of cloud. This is THE place to be.
2:30pm: MY. FEET. HURT.
3.30pm: Gmunden. Finally. After a few more minor wrong turns and finding oneself on the premises of an SOS children's home, I'm sitting in my favourite spot, scoffing ice cream and feeling quite proud of the fact that I've walked 45km in two days. The weather is still fabulous, although the first clouds are starting to clump together on the horizon, suggesting that a storm is coming our way.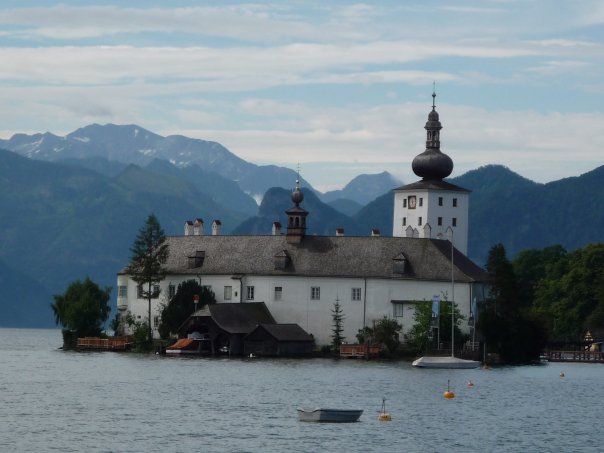 6.30pm: The storm arrives in impressive style, just as I get in the tram to go to the train station. A fork of lightening comes down on the bridge to the Seeschloss with a deafening crack. The tram driver springs clean out of his seat as if a bomb has gone off under it and says some words which I don't understand. This show is quickly followed by nothing short of BIBLICAL rain, the likes of which I never saw before in my life. Tropical Gmunden at its very best. I love it.
9pm: The storm has knocked out something in the rail system and my train is over an hour late, leaving me and my poor tortured feet hovering around on a windy and rainy platform at Attnang-Puchheim. I no longer love it.
Midnight: Drop into bed with exhausted (but very brown) legs and blisters the size of a small African country, but feeling very smug about my sporting achievements.
Next trip already planned!
—–
Related articles:
My Via Claudia Augusta adventure – cycling solo across the Alps
Highlights from 27 years as a distance runner
Running the Wachau marathon – on my lonesome
The hike of my life – climbing the Gehrenspitze in Tyrol